Grandstand Concerts 2016
Florida Georgia Line
w/ Cole Swindell
Saturday July 23 2016
One of the hottest acts in all of country music, Florida Georgia Line, is coming to the 2016 Great Jones County Fair! Since forming in 2010, Florida Georgia Line has taken the songwriter skills honed from their early days in Nashville and shredded them to bits, all while simultaneously using the deep roots of country music to build something new and totally thrilling. From the most raucous party moments to unexpected self-reflective odes, FGL is an unstoppable powerhouse only looking to answer to themselves, and, perhaps most importantly, their fans.
Joining FGL as their special guest is none other than Cole Swindell! Earlier this year, Cole Swindell was nothing more or less than a terrific songwriter with a Nashville publishing deal and a growing reputation as one of the city's most exciting young performers. Now, he's on the road to stardom and that road is heading right through the Great Jones County Fair!
This all adds up to an amazing Saturday night at 2016 Great Jones County Fair!
Ticket Prices:
Track (SRO): $75
Amp/Bleachers: $75

Click Here For More Florida Georgia Line Information.
Click Here For More Cole Swindell Information.
2016: Carrie Underwood
w/ TBA
Friday July 22 2016
Yes, you read that right! Country Superstar Carrie Underwood is coming to the 2016 Great Jones County Fair!
So much can happen in a decade. Just ask Carrie Underwood. It was January 18, 2005, when the fourth season of American Idol premiered and fans first heard the shy Oklahoma college student who Rolling Stone would later hail as "the female vocalist of her generation... of any genre." In less than 10 years, Carrie Underwood has sold 56 million records worldwide, scored 21 #1 singles, and earned nearly 100 major accolades, including seven GRAMMY® Awards.
In 2016, believe it or not, this country superstar is coming to your Great Jones County Fair!

Ticket Prices & ON Sale Date:
TO BE ANNOUNCED

GJCF is "Fair of the Year" Nominee!
Perhaps the most significant news that we have ever achieved in our 163 years of doing business!!! The GJCF has been nominated as one of the "Fair of the Year" candidates for an awards program in Nashville during the International Entertainment Buyers Association (IEBA) conference in October!

The IEBA is the organization that all of the entertainers, agents, managers, recording labels, and entertainment movers and shakers belong to and we couldn't be more honored and excited by this nomination.
Stay Tuned!
Ellen Schlarmann, Iowa State Fair Queen!
Congratulations Ellen We couldn't be more proud!
Our 2015 Great Jones County Fair Queen Ellen Schlarmann of Monticello was crowed the 51st Iowa State Fair Queen on Saturday, rising to the top of 101 contestants from across the state.
"I just can't believe it, really," she said. "I'm really excited."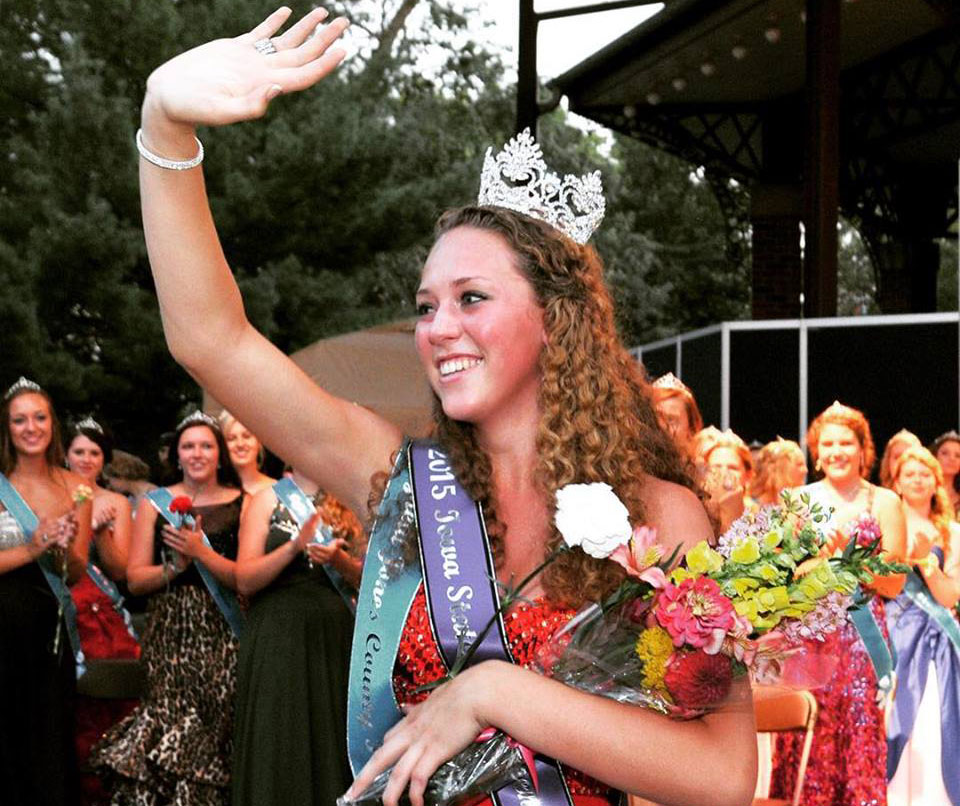 Thank You!
The 2015 Great Jones County Fair is in the books! With great summer weather and fantastic crowds the 2015 fair was again the five best days of summer! We would like to take a moment to thank everyone for their involvement in the 2015 fair. It takes an army to make the fair happen every year and we have the best fairgoers on the planet. Thank you all!
Please remember to check back from time to time as we will post updates on the 2016 fair when we get them finalized. Of course, later this year we will begin offering 2016 concert tickets on sale so you can start getting ready for the 2016 Great Jones County Fair, July 20-25 2016!
Choose an album below to view photos taken at the 2015 Great Jones County Fair by our Photographer, Ron Nemmers. More will be added in the coming days.